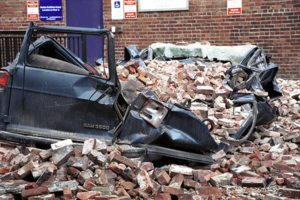 At nearly 11 AM on February 28th, Seattle experienced a 6.8 earthquake, the most intense earthquake since 1965. While the region has earthquakes of much lower magnitudes nearly every day and the epicenter was further south near Olympia, this one had a massive impact on the city's infrastructure.
In older buildings like Speakeasy's headquarters, it was particularly precarious. Not only was the building built in 1923, the majority of the staff was located on the second floor, up a very steep stairwell. Since this was the first earthquake of consequence that the majority of the crew had ever experienced, many of them thought the best option was to leave the building by way of the shaky stairwell. Thankfully, no one was injured during this ill-advised mad dash to 'safety.'
Prior to the earthquake, Mike was meeting with investors in order to secure additional funding for Speakeasy. When it struck, they immediately huddled together under a doorway, an experience which certainly colored their desire to invest in a Seattle-based outfit.
Around the city, the quake damaged the already hazardous Alaskan Way Viaduct and took out a variety of older buildings in the Pioneer Square neighborhood — including another pioneer of the all ages music community in Seattle, the OK Hotel.
Read more about the Nisqually Earthquake.