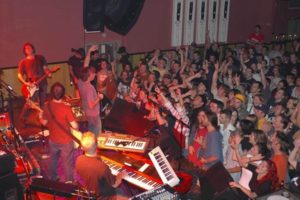 Well before social media and viral events were part of an organization's standard operating procedures, Speakeasy partnered with local radio station KEXP to offer a Ween show at Neumos.
A great memory was the Ween show that Ed and I worked on with viral promotion. I have to give that a bit of credit, considering we did a massive viral promo pre-Facebook, Twitter, etc.  — Amy Barone
One part customer appreciation event, one part lead generation and one part company party, the event was a resounding success — with some Ween fans still considering it to be one of their best live performances, ever.
Yes, it was fun working on weird projects and events with Metallica and Ween, and no, I haven't found another employer who's been as … open minded … but I think my favorite experiences are ones that continue to live on, as I'm in touch with tons of Speakeasy people to this day. Holding court at the Lava, knowing everyone in Belltown, being proud of our hand-made office aesthetic … that big room at 2222 was one of the most comfortable places, career-wise, I have ever been. — Edward Bender