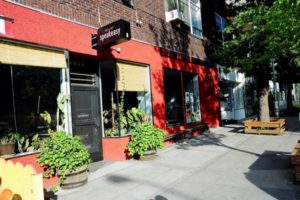 I'd been wanting to get back into tech role here in Seattle since I'd only had a few odd low-paying jobs since moving here in 2003. I had been involved with PURE Cirkus folks for a spell; also, my first acquaintance here had also worked for Speakeasy, so I was really hoping I could get a job around the folks I enjoyed hanging out with.
I straight up just walked in and applied and was hired after a couple interviews without much bother, since many of those working there were already familiar with me it was sort of a breeze.
I had to really strive to meet the learning curve but all my computer networking knowledge came back in spades during the mandatory 3-week training. It was in this classroom that I befriended Joe Motland (Gorthok) and Lish for the first (and not the last) time.
I don't think I'd ever had so much fun on the job, we laughed daily and the overall vibe was sincere. Learned a lot about what it takes to truly succeed as a support rep as well, no thanks to Todd Voelker and Eric Soder.
Originally I became a Tech Support Rep for the home DSL and hosting services. Eventually, I was promoted to the Advanced Services Group supporting Business DSL/T1/Bonded T1 stuff.
The job would be so grueling and so stressful, but those of us that worked hella hard played hella hard, too.
I eventually got lost in a post-divorce downward-spiral which led to my shirking my duties. My team and boss at the time really put up with a lot of shit from me and I am forever grateful to the tribe for their collective patience during my douche-iest years.
Losing that gig set me back many years in a way but was the first in a long series of necessary wake-up calls, and it helped solidify in my mind that I'd likely settle in on a real IT career (someday…after the spiraling subsided…)
— Matthew Siers