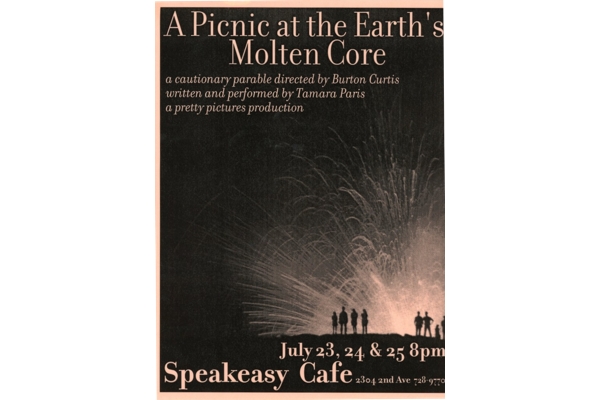 Speakeasy's backroom theater was host to not only live performances, but to a wide variety of cutting edge film series, curated by organizations such as Shining Moments Productions and Independent Exposure.
This article describes a very popular series that Speakeasy hosted for a few years: Silent movies paired with life jazz music performances.
---
Music Creates The Mood For Silent-Movie Series
By John Voorhees
Times Staff Columnist
Live musical accompaniment does wonders for silent movies, though sometimes the experience is undercut by the lights musicians use to follow their scores. They can end up reflecting on the screen and drowning out visual detail in the films.
That's not a problem at the Speakeasy, 2304 Second Ave., where the musicians are seated behind the audience, and no obstructions keep the screen from filling your field of vision. Last Friday's screening of Fritz Lang's "Destiny," presented as part of a series, "Archetypes of Horror," was particularly effective. The images were rich and substantial, and so was the music.
The series continues at 7:30 and 9:30 tonight with Tod Browning's 1925 Lon Chaney Jr. film, "The Unholy Three," with a score performed by Mark Taylor Canfield. Arthur Robison's "Warning Shadows" (1923), accompanied by the Black Cat Trio, plays at the same hours next Friday. The series ends March 29 with a collection of shorts including D.W. Griffith's "Death's Marathon" (1913), with music by Matthew Sperry.
Tonight's movie was the first adaptation of a Clarence Robbins novel that Chaney remade in 1930 as his first talkie (and last film). Browning directed only this version, which is widely regarded as the superior treatment, though the talkie is the one that turns up more frequently.
It's the story of three sideshow artists – a midget (Harry Earles), a strongman (Victor McLaglen) and a cross-dressing ventriloquist (Chaney) – who take revenge on the "normal" world, like the circus freaks in Browning's "Freaks" (1932), in which Earles also appeared. A box-office smash in its time, it was praised by The New York Times' Mordaunt Hall as "a startling original achievement."
Also on tonight's program: D.W. Griffith's "The Sealed Room" (1909) and Winsor McCay's "The Flying House" (1916). Tickets are $7.
Around town
A 35mm print of Terrence Malick's "Days of Heaven" will be shown at 7:30 p.m. next Friday at the Seattle Art Museum, as a sidebar to the museum's current show, "In the American Grain." John Ford's "The Grapes of Wrath" will follow at 7:30 p.m. March 29 . . . Paul Mullin and David P. Moore's independently produced feature, "Hitting the Ground," will be screened at 7 p.m. Sunday at the Alibi Room in the Pike Place Market. A collection of shorts will be shown at 7 p.m. Monday, including John Jeffcoat's "Donut Holes" and "Nessel Road," Rob Lundsgaard's "The Carving" and "Lunch Hour," Ila Packman's "No Hope" and "Drive Through Death," and Nicole Bisaillon's "Three Doors." Suggested donation for both shows: $5 . . . United Artists Cinema 150's Wednesday 7 p.m. laser-disc presentation is George Stevens' Oscar-wining 1951 film of Theodore Dreiser's "An American Tragedy," `A Place in the Sun." The midnight show tonight and tomorrow is `"lade Runner" . . . The world premiere of Antero Alli and Cyndia Pickering's tale of a daylong dream, `"ily in Limbo," is scheduled at 8 tonight at 911 Media Arts Center, 117 Yale Ave. N. It's playing on a double bill with Alli and Rob Brezsny's `"he Drivetime"; the program will be repeated at 8 p.m. tomorrow. At 7 p.m. Wednesday, 911 has scheduled a `"embers' social" . . . The Sanctuary Theater (upstairs at Scarecrow Video) is screening Billy Wilder's `"ce in the Hole" (aka `"he Big Carnival"), at 7 and 9 tonight through Sunday. Next weekend: Bernardo Bertolucci's rarely shown `"una," starring Jill Clayburgh . . . `"kira" is ending its midnight run tonight at the Varsity, which has booked several Friday midnight shows for the next month: `"ank Girl" March 29, `"railer Camp" April 5 and 12, `"eet the Feebles" April 19 and 26 and May 3. `"he Rocky Horror Picture Show" continues at midnight Saturdays . . . The fascinating three-hour documentary, `"anufacturing Consent: Noam Chomsky and the Media," gets another showing at 7 p.m. Monday at the Velvet Elvis Arts Lounge Theatre in Pioneer Square. Tickets are $3 . . . If you're a cable subscriber, you may have seen Jon Blair's Oscar-nominated documentary, `"nne Frank Remembered," on the Disney Channel last summer – and you may wonder how the film, which opens today at the Harvard Exit, could be eligible for an Academy Award. Disney was one of the investors and contracted to show it before its theatrical release. But Blair qualified it for Oscar consideration by booking it into a Los Angeles theater before the first telecast.
Out of town
Drive-in nights are here again. The Valley drive-in reopens tonight with "Executive Decision" "Copycat" "Don't Be a Menace" "From Dusk Til Dawn" "Broken Arrow" and "Rumble in the Bronx" . . . Zhang Yimou's "Shanghai Triad" is back at the Capitol Theater in Olympia, at 6:30 p.m. Sunday through Wednesday. It's playing on a double bill with the documentary, "Theremin: An Electronic Odyssey" . . . The 1948 MGM musical, "Easter Parade," will be shown at 2 and 8 p.m. Wednesday at the Lincoln Theater in Mount Vernon (tickets are $1 for the matinee, $2 for the evening show), and at 2 and 7:30 p.m. Thursday at the historic Everett Theater, where the matinee is free to senior citizens (donations are accepted for the evening show) . . . Disney's Melanie Griffith/Antonio Banderas movie, "Two Much," will open in 20 cities today, but not in Seattle . . . Mathieu Kassovits' controversial youth movie, "Hate" ("La Haine"), won a Cesar (the French Oscars) for best picture. Claude Sautet ("Nelly et Mr. Arnaud") was named best director, and the star of his film, Michel Serrault, won best actor.