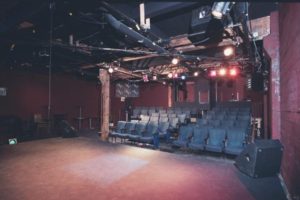 While working at Speakeasy, I also had the privilege of performing in a play on the Speakeasy Cafe Backroom stage. It was a play about a tech startup, by Kate Johnston, directed by John Longenbaugh.
A role opened up last minute and, luckily for me, my girlfriend at the time was in the cast, as was another woman I'd acted with in another show elsewhere. They suggested to John that he read me for the role, so he called me in and cast me after a few minutes of reading.
To spend my days working in the Speakeasy office, while spending my eves rehearsing and performing in the Cafe backroom, was an unusual treat.
— Steven Shults