[contentcards url="http://www.prnewswire.com/news-releases/speakeasy-offers-customer-friendly-transition-program-for-stranded-directv-dsl-subscribers-77193722.html" target="_blank"]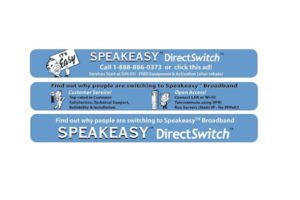 Today, switching Internet Service Providers doesn't seem all that complicated — particularly because consolidation has really narrowed our choices — but there were a variety of DSL ISPs in 2001, and moving from one to another was a time-consuming process.
When DirectTV announced to its customers that it was getting out of the DSL game, a lot of them weren't sure what to do. They'd waited a long time for their DSL to be installed, so how could they switch to a new ISP with minimal downtime?
In response to refugees from defunct ISPs such as Bazillion and Flashcom, Speakeasy had developed its Ellis Island program earlier in the year; this series of tools and processes enabled Speakeasy to smoothly transition a customer from one ISP to another with relatively minimal downtime. With the news of DirectTV's business change, Speakeasy launched DirectSwitch, offering this ISP switch process to the thousands of DirectTV DSL subscribers that needed a new home. The success of DirectSwitch ultimately resulted in the addition of nearly $10m in monthly occurring revenue by early 2002.
---
Speakeasy Offers Customer-Friendly Transition Program for Stranded DirecTV DSL Subscribers
SEATTLE, Dec. 18 /PRNewswire/ — Speakeasy (www.speakeasy.net), the nation's largest independent broadband service provider, is offering a special transition program — DirectSwitch(TM)– to approximately 160,000 stranded DirecTV Broadband subscribers. DirectSwitch allows DirecTV Broadband subscribers a straightforward switch to Speakeasy with minimal Internet access downtime (hours not days) and free installation and hardware ($199 value). DirecTV Broadband, a division of Hughes Electronics Corporation, recently announced that it would discontinue operations in the next 90 days.
Speakeasy has extensive experience transitioning stranded subscribers to its services. In 2001, when an estimated 46 percent of ISPs either failed or were acquired, Speakeasy implemented its "Ellis Island" program — an effort through which thousands of customers were successfully transitioned to Speakeasy. The program resulted in significant growth for the company and gave Speakeasy the experience to seamlessly transfer new subscribers.
"Our DirectSwitch program provides a stress-free transition process for stranded DirecTV Broadband subscribers. New members can expect many benefits from Speakeasy, including its industry-recognized customer care, minimal downtime during the switch and competitive service packages," said Mike Apgar, Speakeasy CEO. "Speakeasy is the best broadband solution for both small businesses and residential customers. We provide a high-performance national network, Dedicated Account Management for all business customers, static IPs with virtually every connection, an 'open access' Wi-Fi policy and robust broadband gaming options."
Founded in 1994, Speakeasy is the nation's largest independent broadband service provider. Fusing a superior national network, legendary commitment to customer satisfaction, cutting-edge Internet technology and content, and a wide range of pioneering value-added services, Speakeasy delivers a comprehensive online experience that redefines the broadband frontier for both businesses and consumers. Reflecting its continued growth and success, Speakeasy recently debuted at #47 in Inc. Magazine's 2002 listing of the nation's fastest growing private companies. Additionally, the company is consistently listed at the top of DSLreports.com's customer satisfaction rankings.
DirecTV Broadband subscribers interested in Speakeasy's DirectSwitch program can go to www.speakeasy.net/directswitch or call 1-800-556-5829. Customer service agents are available 6:00 a.m.-7:00 p.m. PST Monday-Friday and 9:00 a.m.-5:00 p.m. PST Saturday. The DirectSwitch promotion cannot be combined with any other offer and is only available to current subscribers of DirecTV Broadband. Speakeasy offers DSL and T1 services to both business and residential customers and is available in most metropolitan areas within the 48 contiguous states.
For more information: www.speakeasy.net.
SOURCE Speakeasy