Jack Straw Productions launched one of the first streaming radio stations, Sonarchy, at the Speakeasy. 20 years later, this popular music show is now featured regularly on KEXP.
---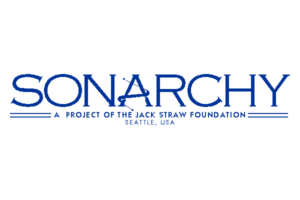 Tune In To New Sonarchy, A Web Site For Sound
By Miguel Llanos
Seattle Times Copy Editor
What would you call people determined that sound should rule? Sonarchists of course, and they've even got their own World Wide Web site here in Seattle.
Called "Sonarchy," the site is a Seattle creation in more ways than one. It's run by the Jack Straw Foundation, whose origins date back to 1962 and Seattle's KRAB-FM, one of the nation's first community radio stations. It uses RealAudio, software developed by Seattle-based Progressive Networks. It's housed at Seattle's Speakeasy Cafe, where staff and users are doing some pretty neat stuff on the Web. And its list of thanks extends to some local Net notables, including former U.S. Rep. Maria Cantwell.
Sonarchy's ultimate goal is a noble one: "to use the power of sound to communicate emotion and experience, create change and build community."
The site includes sections for new features and the foundation's own recording studio, which offers professional, low-cost service.
But the core is Sonic World, where the idea is to explore the world through sound. Listen to birds amid the hum of high-tension wires in Eastern Washington. Or eavesdrop as a tourist in Egypt tries to find the right tour bus.
Best of all, anyone can submit sound files to have them placed in Sonic World.
Drawbacks? The sound quality is not excellent but that should improve with technology. A bigger drawback is that folks who have only text-access to the Web, i.e. not an audiovisual connection, can't appreciate the site.
Sonarchy opened Dec. 13, so don't expect dozens of sound files just yet. But stay tuned. This site should be an interesting one.