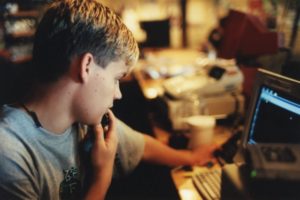 At the young age of 15 I attended an alternative school by the name of Puget Sound Community School (PSCS). I had the wonderful opportunity of visiting the Speakeasy Cafe on a regular basis and attend various classes hosted there. One day, after having completed a class, I was working on a personal webpage project and 'discovered' that my knowledge in such things was interesting to the staff, and I was soon thereafter offered an internship.
After having interned for a little more than 6 months, I was offered a part time summer job position at the Netdesk. I jumped at the opportunity and eagerly applied myself; within a year, I quit my first job at a fast food franchise, moved out and got my first apartment in Belltown. By this time, I had finished school and was working at the Speakeasy full time. I loved my job so much and it helped me make the transition to personal independence at 17.
At that point, Speakeasy was growing and had recently invested in expanded 56k dial up services. I had the honor of becoming Speakeasy's first full time Speakeasy Support Tech (SST) representative. As Speakeasy continued to grow and began offering DSL services, I too continued to learn and grow as a technician and was supporting both residential clients and business customers. I also had the wonderful privilege of working with Tyler Apgar as his 'assistant,' helping him perform custom installations and maintenance of Speakeasy's core infrastructure.
— Brian Nelson (The Younger)