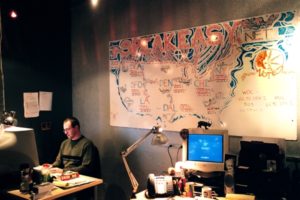 I heard about Speakeasy from Joel Fletcher who worked at Speakeasy at the time.
I had recently quit my job at Amazon and I was looking for a job, so I applied.
I was interviewed by John Flagg and I have to say I knew immediately I wanted to work for Speakeasy. I loved the vibe, the casual environment, and the quirkiness of it all.
I liked how "fit" was emphasized more than even my skills. I have always thought that myself, you can teach anyone anything if they are willing to learn, but you can't train attitude 😊 I loved it.
I started in CS, then I moved up to "routing tickets," which was basically the go-between for customer support (CS) and advanced support (AS).
Then I was promoted to CS supervisor and was given the opportunity to design and run a Quality Assurance program for CS calls and tickets.
I took over the training department for a while, then I went back to being the Senior Support Supervisor for CS and did that for the rest of my time at Speakeasy.
I left a few weeks before Best Buy purchased the company.
— Michelle Morano Wittenborn