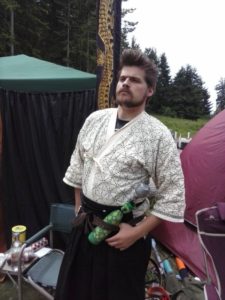 In my earliest years at Speakeasy, I was completely fascinated not only by the technical aspects of my job, but the cultural aspects of the Cafe, too.
The Cafe had offered so many wonderful community based services, and being part of this family made me feel like I was more than just an employee, almost like a mascot. The Cafe wasn't just where I worked, it was my living room! And it was full of art, music, theatre and more.
Working at Speakeasy helped shape my present life: It wasn't just a job, it was entrance to an entire career. As of now, I've been working within the technology field for over 20 years. I still utilize skills learned at Speakeasy on a day to day basis. Speakeasy was a way of life for me and much of its staff has been like family.
I can honestly say that had it not been for PSCS and Speakeasy, I may have been just another hard-luck case with a tragic upbringing; instead, I get to hold my head high and feel successful in my career.
I have recently reached my personal goal of an 'Engineering' Title (something all technicians yearn for?) and much of my success is rooted in the computer skills and customer handling techniques that I learned at the tender age of 15.