24 Hours of Cyberspace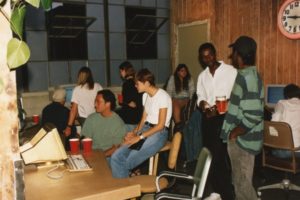 As Seattle's Belltown neighborhood slowly matured from a more industrial-oriented district into one that fostered unique, independent and creative businesses, so did the Speakeasy Cafe develop into a popular haunt for both art and tech aficionados alike.
The Internet itself was gaining more interest, and its unique ability to connect people all over the world in real-time was documented by projects such as 24 Hours in Cyberspace. In addition to its in-house Internet access, the Speakeasy crew had coordinated with a smattering of cafes around the city to host RAIN (Remote Access Internet Nodes) terminals, as well as launched dial-up service to the select few who had the gear with which to connect at home. These were the first steps in establishing Speakeasy as more than just an Internet cafe -- it was now on its way to becoming a full-fledged ISP.
Another way it differentiated itself in the community was through its support and showcasing of a variety of independent artists. From hosting local jazz and visual art in the front room to its innovative film and theater programs in the back room, the cafe welcomed creatives of all types. Seattle itself was starting to revitalize its downtown neighborhoods, and the arts were helping to transform once-derelict areas into attractive destinations.