Kontent + Kommunity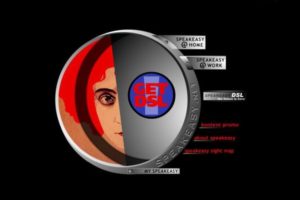 After such an eventful closeout to the millennium, Speakeasy was gearing up to continue its focus on its national broadband business. The crew grew exponentially to support this -- and qualified help was aplenty, given the number of dot-com tech companies in Seattle that went bust when the bubble burst in early 2000.
With their sights set on growing the network side of the business, they started acquiring smaller ISPs in the area and expanding their online presence to include their Kontent section -- well before the content-is-king reality of today, the crew launched music, film, gaming and trading content designed to provide more value to their base of subscribers.
In August of that year, however, they experienced a bit of a setback: Their primary partner, Covad, declared bankruptcy. While their subscribers expressed concern, the organization eventually exited from their Chapter 11 restructuring without any interruption in services.
Meanwhile, the Cafe continued to be a community hub, and it was the site for a fundraiser in support of Ralph Nader's presidential run that year.